Relax – it's easy to bring yoga into your classroom! 
You can incorporate yoga with what you are already doing with your students.  You don't need any special training or extra space to move in. All you need is your current skill set and a new set of tools that matches your comfort level with yoga and movement. 
If you need some inspiration, we've created specific content elementary school teachers can use to incorporate wellness into classrooms through yoga and mindfulness! Our kids' yoga Teaching Tools provide color photos of yoga poses, with step-by-step directions.
You can display the easy-to-follow directions on your interactive whiteboard! All poses are accompanied by a script that was specifically written for children to follow. Simply scroll through poses as needed. 
If you would like to lead your students in yoga, print yourself a copy of the directions for reference and follow the provided script!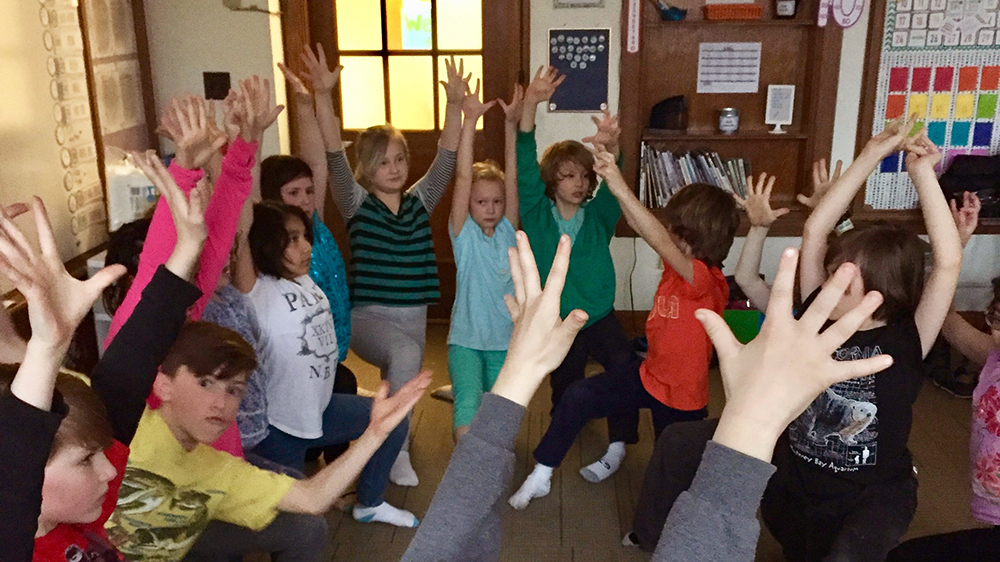 Yoga at Story Time: 
Students cherish this time of day with you! Books are a great opportunity to engage them in some active movement. Children become the story, as they practice yoga the different storylines. 
Get creative, and explore yoga poses to hundreds of books. You can choose from childhood favorites or books that match the theme of your curricular units.
Incorporate Waiting for Wings into a unit on butterflies and pollinators, or Love Will See You Through for Martin Luther King Jr. Day! 
Yoga at Recess:
Whether recess is outdoors or inside for inclement weather, children love to participate in group games! Teachers can create structured games, ensuring all kids have someone to play with. There is no limit to the number of children that can play a game of Space Tag, or any of our other activities that are designed for recess.
For a quieter option in a classroom, mandalas offer a calming coloring experience. 
Yoga as a Brain Break:
Using yoga as a brain break helps students to reset their thinking, by engaging both their minds and their bodies into a new activity. There are a variety of yoga routines that children can do while standing behind their seats or during circle time! Some use their whole body, while others focus on a particular body part or connecting with other students.