Ardha Uttanasana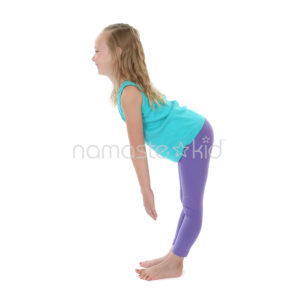 Half Forward Bend is a traditional part of yoga Sun Salutations. It is designed to help people to transition from one pose to another, and is a fun opportunity to have children look around the yoga circle and smile at each other!
Children can enjoy this back-strengthening pose in our Basic Sun Salutation and Extended Sun Salutation.
Step 1
Begin in Ragdoll Pose.
Step 2
Straighten your arms and back as you lift your upper body away from your legs.
Step 3
Look forward, and hold this pose for a couple of breaths.
Step 4
Release your body back into Ragdoll Pose, or continue through your Sun Salutation. 
Subscribe today to view this Teaching Tool with full-color images and step-by-step instructions!